Self-Paced Elementary German Course
German A2.1
Looking to take your basic German up a notch?
Take the next step in your journey to fluency with Part 1 of our Elementary Course. Together, we'll build on the topics covered at Level A1 and expand your use of the vocabulary and grammar needed for daily life in German.
Among many other things, this includes varying your greetings, talking about hobbies, and making plans for the future. You'll learn to hold a full conversation about who you are, where you come from, and what's going on in your life.
To start with this level, you are expected to already have basic knowledge of German.
This course is ideal for people who have recently completed an A1.2 course or received this recommended level on our placement test.
CEFR standardized: Level A2 part 1 of 2

Extra learning content to help you learn faster.

Course compliments Schritte International Neu series.

Find your notes and learn more in the Apps section.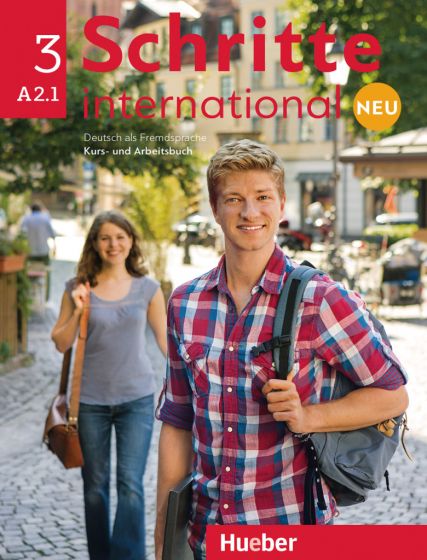 This course compliments the following textbooks:
Schritte International Neu 3
For German A2.1 courses we recommend Schritte International Neu 3. Order your physical copy or the digital copy today. Digital or physical Textbook is included in online instructor-led courses.
Build on a solid foundation
Added video to explain grammar topics
96% of learners find this course helpful
Frequently asked questions
These levels are classified as A1 for beginners, A2 for elementary, B1 for intermediate, B2 for upper intermediate, C1 as advanced, and C2 as mastery.
CORE Languages, like many other language schools, splits these levels in half to accommodate students' time and budget planning (e.g. level A1 is split into A1.1 and A1.2). This framework is one of the best to learn German for beginners.
To start with level A1, you are expected to have no knowledge of German.
What Does it Mean for You?
After completing level A2.1, you'll be able to:
Understand sentences and frequently used expressions related to areas of most immediate relevance (e.g. very basic personal and family information, shopping, local geography, employment).​​
Communicate in simple and routine tasks requiring a simple and direct exchange of information on familiar and routine matters.​​
Describe in simple terms aspects of your background, immediate environment and matters in areas of immediate need.
At CORE Languages, as part of the A2.1 curriculum you will learn the following (and more):

Answering "Why" questions; Expressing the past (split verbs); Describing sequences of actions in the past (zuerst, dann, etc.); Asking about whether something has ever been done; Talking about vacations; Talking about extended family; Expressing "to put" in German, Talking about the location of items and places and placing them; Asking people to come in, out, over, etc.); Reading short messages and notes; Talking about frequency; Using "some" and "one" in German; Naming kitchen utensils and talking about food; Ordering, complaining and explaining in a restaurant; Offering and declining; Talking about cause and effect (wenn-dann); Looking for jobs; Talking about what one should do; Assigning ownership of known items (deinen, deins, etc.); Saying "already" and "not yet"; Saying "someone" and "no one"; Reading messages and announcements at work; Talking about vacations; Using reflexives ("oneself" – "sich"); Talking about interests and health; Talking about activities; Asking and answering questions with "Wo" ("wofür", "worauf", "womit", etc.); Talking about past and current situations and the differences between them (wollte, konnte, sollte, etc.); Expressing what one thinks or believes (…,dass…); Talking about education and educational offers; Talking about gifts and "to whom" they are given.
Community
When you learn with CORE, you get more than amazing content and access to incredible teachers, you get access to our online learning community. Join The CORE Languages learning community today. When you're on your learning journey, it makes sense not to do it alone!
Click the link below to set up your account and join our learning community for free. It's a great way to ask questions and get in extra practice.