Self-Paced Advanced Spanish Course
Spanish B2.2
Take the next step in your journey to fluency with Part 2 of our advanced course and we'll have you able to communicate spontaneously and fluently with native speakers without breaking a sweat.
Among many other things, this includes being able to express your point of view on specific issues and discuss their advantages and disadvantages. You'll learn to understand the main content of complex texts on topics both concrete and abstract, including technical discussion in your specialized field.
To start with this level, you are expected to have intermediate knowledge of Spanish already. This course is ideal for people who have recently completed a B2.1 course or received this recommended level on our placement test.
CEFR standardized: Level B2 part 2 of 2

Extra learning content to help you learn faster.

Course compliments Prisma LatinoAmericano series.

Find your notes and learn more in the Apps section.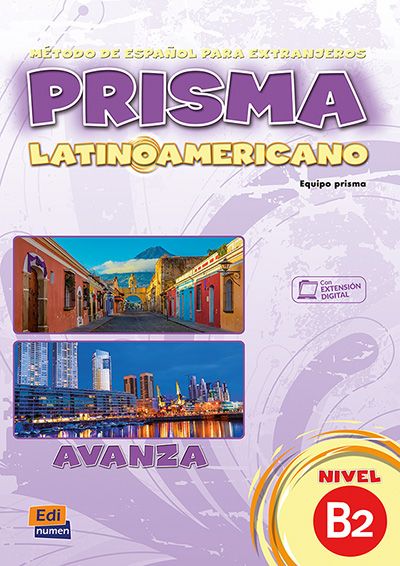 This course compliments the following textbooks:
Prisma LatinoAmericano
For Spanish B2.2 courses we recommend Prisma LatinoAmericano. Order your physical copy today.
Build on a solid foundation
Added video to explain grammar topics
96% of learners find this course helpful
Frequently asked questions
These levels are classified as A1 for beginners, A2 for elementary, B1 for intermediate, B2 for upper intermediate, C1 as advanced, and C2 as mastery.
CORE Languages, like many other language schools, splits these levels in half to accommodate students' time and budget planning (e.g. level A1 is split into A1.1 and A1.2). This framework is one of the best to learn Spanish for beginners.
To start with level A1, you are expected to have no knowledge of Spanish.
What Does it Mean for You?
After completing level B2.2, you'll be able to:
understand the main ideas of complex text on both concrete and abstract topics, including technical discussions in your field of specialization.​​
interact with a degree of fluency and spontaneity that makes regular interaction with native speakers quite possible without strain for either party.​​
produce clear, detailed text on a wide range of subjects and explain a viewpoint on a topical issue giving the advantages and disadvantages of various options.
Community
When you learn with CORE, you get more than amazing content and access to incredible teachers, you get access to our online learning community. Join The CORE Languages learning community today. When you're on your learning journey, it makes sense not to do it alone!
Click the link below to set up your account and join our learning community for free. It's a great way to ask questions and get in extra practice.